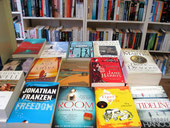 At the end of 2012 the Clevedon Community Bookshop celebrated its first year. This community based shop opened its doors to everyone on the 31 December 2011 and the past year has been a fascinating learning experience. 
The next year of 2013 is anticipated with much excitement, firm hope and aspiration that the shop will continue it to build on establishing itself as an asset to the community, along with a renewed anticipation at continuing to trade in the fascinating world of books.
Recent press articles are highlighted below and can be read in more detail by following the links.