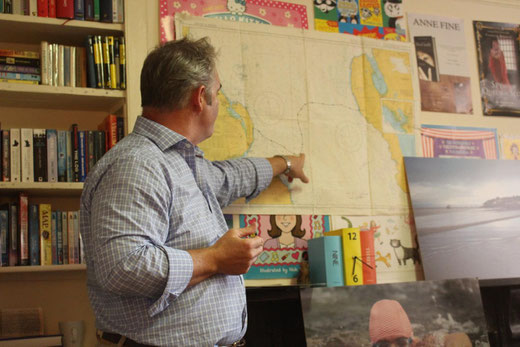 By Chloe Headdon
On Sunday 21st September, as part of the Clevedon Tides Festival, the bookshop hosted a talk by Steve "Three Channels" Price, a local long-distance swimmer and the first man to cross the Bristol, English, and Irish Channels.
The audience, which filled the back room of the shop, was kept thoroughly entertained; there were laughs, gasps, and not a few winces as we heard how Steve battled rolling waves, freezing temperatures, close scrapes with super-tankers, and jellyfish the size of tables (yikes!) to complete his landmark swims.
One particular highlight was Steve's account of his attempt to cross the Irish Sea, a gruelling venture that has defeated many other swimmers, and which he indeed only successfully completed on his fourth try.
The evening ended memorably with a poem by one of his support-crew (read with great aplomb by Steve), recounting the miserable days spent in a bedsit in Dover, waiting for the perfect weather conditions to attempt the English Channel crossing. In all, it was a wonderful tale, and the audience's enjoyment was clear in the vast number of questions they had for Steve at the end!
We at the bookshop would like to express our thanks to Steve, and we wish him best of luck with any swimming challenges he undertakes in the future. We are also delighted to say that, through ticket-sales for this talk, we have raised approximately £80 for the charity Marlens, which maintains the marine lake where Steve regularly trains. It is a pleasure to support Clevedon's swimmers, many of whom attended the talk on the night.