We've got true life and fictional crime in our crosshairs this month -- as you may have deduced from our Broadchurch-inspired window display and the life-size chalk body outline on the floor! In keeping with this theme, we've tracked down some of our favourite classic crime titles…
The following paperbacks are part of our off-site inventory, and can be ordered in for collection from the bookshop – just phone/email us or pop by the shop.  All books in stock at time of writing!
---
Perfume: The Story of a Murderer (1985) – Patrick Suskind
Survivor, genius, perfumer, killer: this is Jean-Baptiste Grenouille. He is abandoned on the filthy streets of Paris as a child, but grows up to discover he has an extraordinary gift: a sense of smell more powerful than any other human's. Soon, he is creating the most sublime fragrances in all the city. Yet there is one odour he cannot capture. It is exquisite, magical: the scent of a young virgin. And to get it he must kill. And kill. And kill...
A fantastic tale of murder and twisted eroticism controlled by a disgusted loathing of humanity ... Clever, stylish, absorbing and well worth reading – Literary Review
A meditation on the nature of death, desire and decay ... a remarkable début – Peter Ackroyd, The New York Times Book Review
---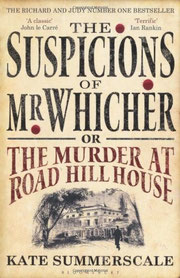 The Suspicions of Mr Whicher or The Murder at Road Hill House (2008) – Kate Summerscale
A true story that inspired a generation of writers such as Wilkie Collins, Charles Dickens and Arthur Conan Doyle, this has all the hallmarks of the classic murder mystery - a body; a detective; a country house steeped in secrets. In The Suspicions of Mr Whicher Kate Summerscale untangles the facts behind this notorious case, bringing it back to vivid, extraordinary life.
It is a beautiful piece, written with great lucidity and respect for the reader, and with immaculate restraint. A classic, to my mind, of the finest documentary writing – John Le Carre
I can't think of another book which takes you so fast into the smells, tastes and atmosphere of that time – Doris Lessing
---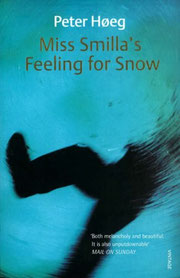 Miss Smilla's Feeling For Snow (1992) – Peter Høeg
One snowy day in Copenhagen, six-year-old Isaiah falls to his death from a city rooftop. The police pronounce it an accident. But Isaiah's neighbour, Smilla, an expert in the ways of snow and ice, suspects murder. She embarks on a dangerous quest to find the truth, following a path of clues as clear to her as footsteps in the snow.
On one level, both a whodunnit and a thriller - ingeniously plotted. Extremely hard to put down. Peter Høeg's novel is already making for classic status – Independent
Unusual and enveloping. Extraordinarily evocative, atmospheric and poetic – Sunday Times
---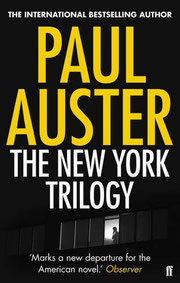 New York Trilogy (1985-6) – Paul Auster
Moving at the breathless pace of a thriller, these uniquely stylized detective novels include City of Glass in which Quinn, a mystery writer, receives an ominous phone call in the middle of the night. He's drawn into the streets of New York, onto an elusive case that's more puzzling and more deeply-layered than anything he might have written himself. In Ghosts, Blue, a mentee of Brown, is hired by White to spy on Black from a window on Orange Street. Once Blue starts stalking Black, he finds his subject on a similar mission. In The Locked Room, Fanshawe has disappeared, leaving behind his wife and baby and nothing but a cache of novels, plays, and poems.
Auster's best-known fiction, which reads as if Samuel Beckett were undertaking to refashion one of the more snarled plots of Raymond Chandler – Joyce Carol Oates, The New York Review of Books
Auster has perfected a limpid, confessional style, then used it to set disoriented heroes in a seemingly familiar world gradually suffused with mounting uneasiness, vague menace and possible hallucination – Michael Dirda, Washington Post
---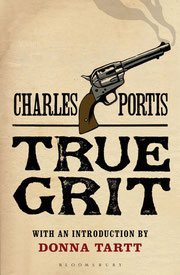 True Grit (1968) – Charles Portis
There is no knowing what lies in a man's heart. On a trip to buy ponies, Frank Ross is killed by one of his own workers. Tom Chaney shoots him down in the street for a horse, $150 cash, and two Californian gold pieces. Ross's unusually mature and single-minded fourteen-year-old daughter Mattie travels to claim his body, and finds that the authorities are doing nothing to find Chaney. Then she hears of Rooster - a man, she's told, who has grit - and convinces him to join her in a quest into dark, dangerous Indian territory to hunt Chaney down and avenge her father's murder.
Comparable to her literary ancestor and fellow southerner, Huckleberry Finn … a gripping story made up of insightful digressions – Observer
One of those rare sweet delights ... one can recommend to inveterate fiction readers and to those who read only one or two novels a year – San Francisco Chronicle
---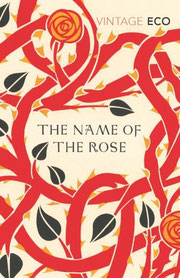 The Name of the Rose (1980) – Umberto Eco
The year is 1327. Franciscans in a wealthy Italian abbey are suspected of heresy, and Brother William of Baskerville arrives to investigate. When his delicate mission is suddenly overshadowed by seven bizarre deaths, Brother William turns detective. He collects evidence, deciphers secret symbols and coded manuscripts, and digs into the eerie labyrinth of the abbey where extraordinary things are happening under the cover of night. A spectacular popular and critical success, The Name of the Rose is not only a narrative of a murder investigation but an astonishing chronicle of the Middle Ages.
The novel explodes with pyrotechnic inventions, literally as well as figuratively . . . The narrative impulse that commands the story is irresistible …Mr. Eco's delight in his narrative does not fail to touch the reader – New York Times Book Review
Whether you're into Sherlock Holmes, Montaillou, Borges, the nouvelle critique, the Rule of St. Benedict, metaphysics, library design, or The Thing from the Crypt, you'll love it – Sunday Times
---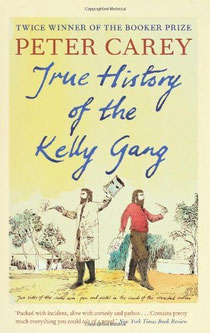 The True History of the Kelly Gang (2000) – Peter Carey
In True History of the Kelly Gang, the legendary Ned Kelly speaks for himself, scribbling his narrative on errant scraps of paper in semiliterate but magically descriptive prose as he flees from the police. To his pursuers, Kelly is nothing but a monstrous criminal, a thief and a murderer. To his own people, the lowly class of ordinary Australians, the bushranger is a hero, defying the authority of the English to direct their lives. Indentured by his bootlegger mother to a famous horse thief (who was also her lover), Ned saw his first prison cell at 15 and by the age of 26 had become the most wanted man in the wild colony of Victoria, taking over whole towns and defying the law until he was finally captured and hanged. Here is a classic outlaw tale, made alive by the skill of a great novelist.
The best measure of the novel's excellence [is] that you never doubt it's Kelly's own words you're reading in the headlong, action-packed story filled with stage-coach holdups, bank robberies and backstabbing treachery – Malcolm Jones, Newsweek
Carey deserves to be lionized in his native land for this triumphant historical recreation, and he will undoubtedly win a worldwide readership for a novel that teems with energy, suspense, and the true story of a memorable protagonist – Publishers Weekly
---
Don't forget you can now browse our full database of books (including more crime novels you won't find in-store) using the free Readerware app – details here.